SARIA Group acquires remaining shares in UK subsidiary SARIA Ltd
On 29 February 2016, the shareholders agreed the acquisition by the SARIA Group of a further 49% of the shares in SARIA Ltd (formerly Prosper De Mulder Ltd); the UK subsidiary is now wholly owned by the SARIA Group.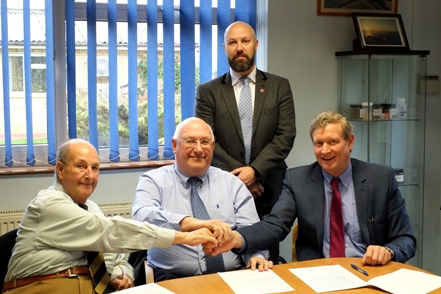 Signing the contract: (FLTR) Nick De Mulder, Anthony De Mulder, Richard De Mulder and Franz-Bernhard Thier
The former PDM Group, which changed its name to SARIA Ltd in 2014, has longstanding links with the SARIA Group of Selm, Germany.
On 29 February 2016, the shareholders signed an agreement authorising the acquisition of all the company's shares. SARIA Ltd is now wholly owned by the SARIA Group. "I and my whole family are delighted that our family business, with a heritage that dates back to the beginning of the 20th century, has been placed in safe hands. The SARIA Group has shown itself to be a competent and reliable partner over many years. Full acquisition by SARIA is also in the interests of our suppliers, customers, partners and employees as it represents the right step in terms of future developments," said Nick De Mulder, a SARIA Ltd shareholder and son of PDM Group founder Prosper De Mulder, speaking at the signing of the agreement.
In 2009, the then PDM Group and the SARIA Group merged their combined expertise in the processing and recovery of food and kitchen waste into ReFood UK, a joint venture serving the UK market. The partnership's first major success was the establishment of the first ReFood site in the UK, which involved the construction of a biogas plant in Doncaster, home to the PDM Group since 1926. In 2010, SARIA acquired a 10% stake in the PDM Group, increasing it to 51% a year later.
At the signing of the agreement, Franz-Bernhard Thier, the member of the SARIA Group management board with responsibility for the UK, said: "We are delighted that this decision enables the SARIA Group to acquire the remaining shares in SARIA Ltd, the British market leader in the collection and processing of animal by-products.
Together with the De Mulder family, we are confident that this step will strengthen SARIA Ltd's business base and provide a solid foundation for the company's future growth."
SARIA Group
The SARIA Group is an international manufacturer of high-quality products for use in human and animal foodstuffs, agriculture and pharmaceutical and industrial applications. SARIA is also a renewable energy producer and provides services to the agriculture sector and food industry.
SARIA UK employs approximately 950 people and operates a number of logistics and handling sites in addition to six manufacturing facilities in the UK which process animal by-products and organic waste from the food, meat and livestock sectors. The SARIA Group employs around 6,800 people worldwide in 179 locations across 19 countries.